Back objects are objects that are used for background tiles such as walls and terrain. They have a special property that makes them fill in behind things and other objects. This is fiddly and takes some getting used to but is much simpler than multiple layers to edit in the world.
The only attribute is Clonable.
Far Back
Far Backs can be used for scenery and backdrops in an area. Players are required to select coordinates to fill in a region or place a cell at that point.
Far Backs have the following attributes:
Leftward
Rightward
Upward
Inward
Diversify Points
Diversify Points +
Diversify Points ++
Further In Front
Further In Front +
Short Gradient
Gradient
Long Gradient
Unfilled
Clonable
Walkable
Walkables can be used for 3D-style or bird's eye view areas, or even stairs. Players walk on them normally, however, Motions cannot be displayed on Walkables, nor can it be shown that the player is creating.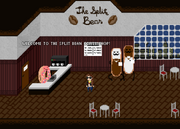 Walkables have the following attributes:
Clonable
Further In Front